Weddings
The Homestead is the quintessential venue for your perfect Berry wedding. Set against a backdrop of rolling green hills and boasting a stunning rural outlook, this 5 acre property provides everything you need for an incredible wedding celebration on any scale, from an intimate elopement or micro-wedding, to a larger gathering of up to 120 guests.
Our wedding packages include exclusive use of The Homestead including our luxury guest accommodation for up to 10 people, the extensive grounds, and dedicated reception venue, to ensure our couples can make the most of this incredibly special time.

Stay in Intimate Luxury
Our sumptuous guest lodgings, accommodate up to 10 people and are available exclusively for your wedding party. The accommodation consists of our freestanding guest suite, The Dairy, for the wedding couple, as well as our 4 large self-contained guest rooms, ideal for accommodating the bridal party or closest family members.
The Dairy is a beautiful freestanding cottage offering a separate lounge room with open fire, large bedroom, deck area, kitchenette and an opulent bathroom with full-size bathtub with french doors opening out to a private courtyard.
Each spacious guest room is lavishly appointed with premium beds (king or singles), luxurious bedding, pristine furnishings, spacious high ceilings, cosy wood fires, large bathrooms with full-size bathtubs, plush towels, heated towel rails and plenty of little extras that ensure an indulgent experience.
Additional wedding guests can choose from a large range of accommodation options in and around Berry from hotels and motels, to B&Bs and holiday homes.
Start the day in style
Our brides and bridesmaids will feel completely pampered when getting ready for the day in our dedicated Bridal Salon. Enjoy a champagne platter while your chosen hair and makeup artist helps you prepare. The Salon can also be accessed throughout the day for the bride and her tribe to freshen up.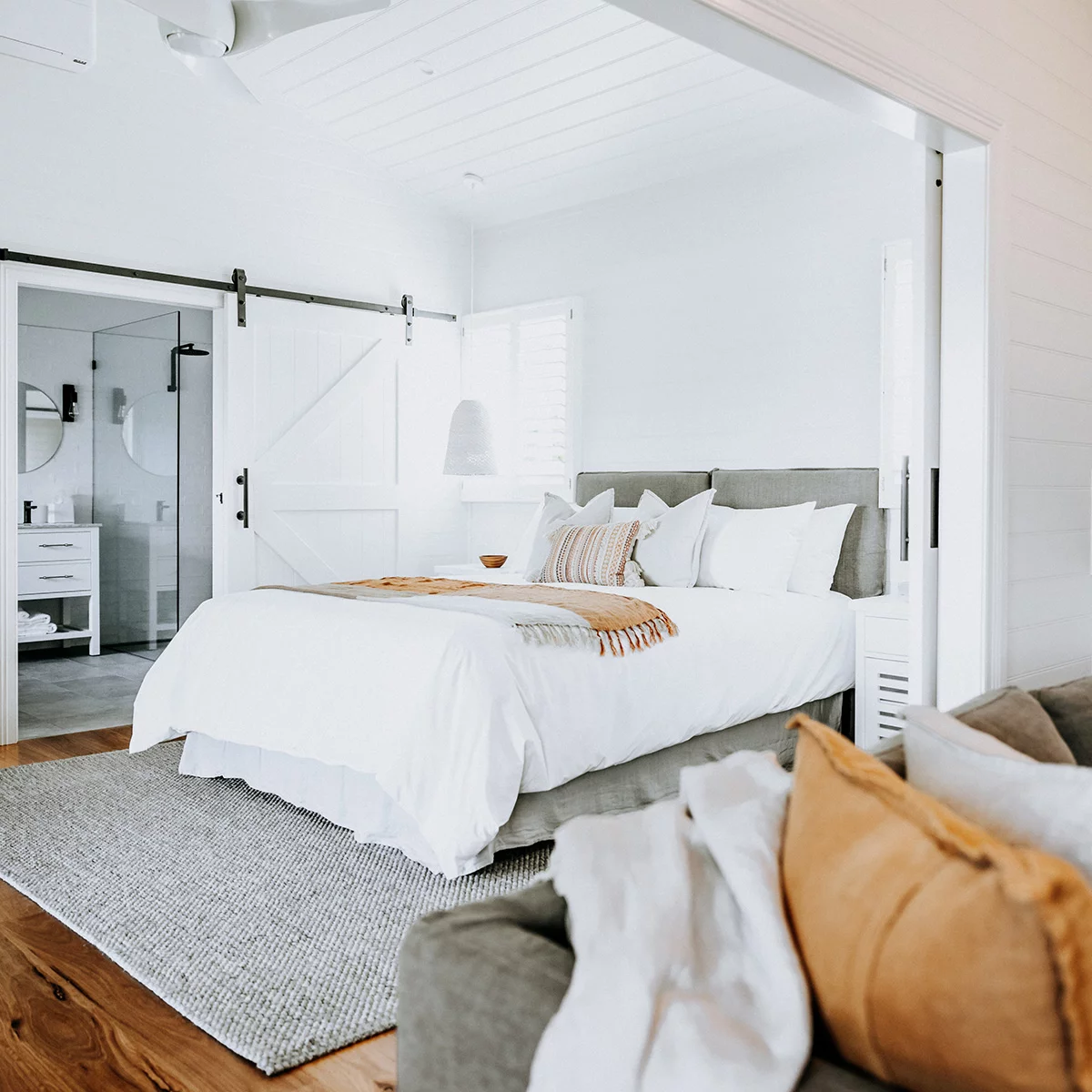 Say I Do
Couples can choose from a multitude of beautiful locations within our stunning, landscaped grounds to create their perfect personalised outdoor ceremony.
Our timber pergola overlooking lush green paddocks provides an elegant option and may be festooned with lighting or florals to reflect each couple's wedding theme. Alternatively, couples may choose to locate an arbour within the landscaped grounds.
Those opting for a traditional church ceremony, will find Berry is home to a number of churches of various denominations.
Picture Perfect Locations
There are an endless number of picturesque backdrops for location photography at The Homestead, so there's no need to leave your guests after the ceremony to travel off site to get that 'perfect shot'.
For those that wish to venture further afield, there are certainly an abundance of beautiful vistas right on our doorstep throughout Berry village and surrounds, and we are only a 10 minute drive to the beaches of the South Coast.
Let The Celebrations Begin
Our dedicated reception space, The Cowshed, and the adjacent silo have been lovingly restored to create a totally unique reception space packed with rustic charm and modern facilities, ideal for a memorable celebration with your guests.
The main dining room, featuring exposed timber beams and walls lined with the original tin roof, comfortably seats 120. French doors at the western end of the dining room open onto a deck area and manicured lawns.
Adjacent to the main dining area, there is a guest lounge with open fireplace and leather lounges.
The reception set up including timber tables, chairs, crockery, cutlery, glassware and linen napkins are part of our many inclusions. Personalised styling and florals are to be arranged by the couple.
Permanent bathroom facilities are provided for the comfort of your guests, with no need to hire additional facilities.
When the time comes for your guests to depart we offer complimentary transport.
Catering & Bar Facilities
Your chosen caterer will be right at home in our full commercial kitchen with coolroom and everything they need at their fingertips.
Bar staff will serve from our dedicated Silo bar, and our onsite coolroom can be used to store your alcohol and other beverages. We also provide a lemonade stand/water station to keep your guests hydrated and in top form all evening.
IT'S ALL IN THE DETAILS
Traditional Weddings
Our aim is to make your wedding planning a pleasure and to reduce your need to hire items wherever possible. As such, we provide a significant number of inclusions for your wedding day, which include:
Onsite wedding coordinator and assistance with planning
Access to the Bridal Salon for onsite hair and makeup on your wedding day
Champagne platter for bridal party on the wedding morning
Complete standard reception set up including timber tables, crockery, silver cutlery, glassware, chairs, white linen napkins and PA system
Complimentary lemonade stand/water station for guests at reception
Full commercial kitchen
Onsite coolroom
Mini bus transport for guests to and from the wedding
Permanent bathroom facilities
Friday night casual pizza night for the wedding accommodation guests for up to 10 people (weekend weddings only)

Complimentary minibus transport for wedding guests to/from Berry village.
Intimate Elopement & Micro Weddings
Exclusive and luxurious, The Homestead is the ultimate location for your mid-week elopement, or micro wedding of up to 10 people. As well as an array of package inclusions designed to ensure your day is intimate and indulgent, we can also assist by arranging a variety of wedding services including hair and make up, photography, bridal bouquet, and the all important wedding celebrant to officiate the celebrations.
SOMETHING A LITTLE EXTRA
We offer a range of in-house services to assist bring a little something extra to your day, without the need to source additional wedding suppliers.
Cocktail Packages
Give your function some extra zing and sense of occasion by choosing from our cocktail packages including frozen, classic or premium cocktails. Drinks may be served in a casual setting on our lawn from our Caravan Bar during the afternoon, or from our more formal Silo Bar in the evening. Or cocktail packages include all ingredients, glassware and accessories.
Gelato Packages
The Homestead gelato cart offers a fun, playful way of serving dessert, or a sweet snack, at your wedding or event. Our packages include your choice of delicious, premium gelato flavours from local micro-dairy, The Pines at Kiama, as well as waffle cones, cone sleeves, cups, spoons and napkins. Gluten free and dairy free options are available on request.
Styling and Lighting Packages
We provide a number of inclusions in our standard reception set up. Should you wish to personalise your wedding reception further to reflect your individual style or wedding theme, we have additional decorative options available in-house.
Our Creative Styling Package includes your choice from our wide range of coloured linen napkins, placemats, gold cutlery, candlesticks, vases and outdoor styling items.
Our Lighting Packages include everything you could possibly need to create a magical ambience for your reception using candlelight, fairy lights and/or additional outdoor lighting.
Interested in finding out more?
Contact us to find out more about packages, pricing and availability for traditional weekend weddings, as well as weekday weddings and mid-week elopement, minimony and micro weddings.
Thank you so much for having us & our families & for forming the most beautiful memories we will cherish forever. You guys as a collective were an absolute joy & nothing was ever an issue or asking too much.

Our guests & us have not stopped raving about your stunning venue, you have such a beautiful space where everything is picture perfect & every little detail has been thought out so well. You made our wedding day, night & weekend everything we could of ever hoped for & more & we just did not want it to end.

Having our families onsite with us for the time we had really gave us the opportunity to connect & live in the moment. You were so accommodating with the pre-wedding pizza night & recovery brekkie, I know these experiences will be treasured forever.

Chris and Kate – November 22

Cameron and I just wanted to say the biggest thank you for the absolutely best day and weekend – it was truly amazing from start to finish and you guys went above and beyond to make that happen.

We've had so many comments from people about the venue and how magical it was, and we absolutely agree.

Flo and Cameron – March 2023

Thank you, thank you, thank you! Homestead Berry hosted our most wonderful wedding on the weekend and we could not have wished for a more perfect event! The generosity shown, attention to detail from the whole team, the warmth of the hosts and the most beautiful setting, ensured the day and night ran smoothly but was also the perfect blend of formal and fun! Only wish we were doing it all again this weekend, much love and gratitude to all involved.

Annie and Steve -April 22

My husband and I got married at the Homestead and had the best experience we could have hoped for! The venue is gorgeous and Julie, Matthew and their team were exceptionally accommodating. From the Friday afternoon when we arrived to the Monday morning when we checked out we were made to feel like family.
The package and its inclusions covered everything that we wanted and needed from a venue; accommodation, furniture for reception and ceremony, buses for guests, dinner the night before and breakfast the next day… the list goes on! They also had a great list of recommended vendors and genuinely seemed engaged in delivering a seamless wedding weekend experience. I very highly recommend considering this gorgeous venue for your wedding celebrations!

Bek and Ben – May 22

Thank you so much for all of your work to make our wedding so special! Tom and I and our guests all had such an amazing time. We can't wait to come back and celebrate our anniversary in your amazing accommodation in the future.

Ellese and Tom – Aug 2022

Thank you for hosting our dream wedding. You have all been an absolute pleasure to work with and The Homestead really is the most magical venue. We couldn't have imagined having our special weekend anywhere else.

Our guests have raved about the venue and how special it is there. You have really thought of all the little touches that made it so unique and wonderful.

Danielle and Shane – June 2023

We recently had our wedding here and wanted to say how amazing the venue and staff were.

The day was absolutely stunning, made all the more special by how incredible the venue, staff and atmosphere was. Rachael has been such an incredible help throughout the lead up, and everyone was so accommodating across the weekend. Both families were blown away by the set up, service and general look and feel of the place. It wasn't just a wedding venue for us but an amazing weekend away spot.

I couldn't recommend The Homestead more as one of the most amazing wedding venues on the South Coast.

Jess, September 2022
Your idyllic getaway awaits
Your hosts Julie and Matthew Quinn are waiting to help you plan your visit. Get in touch today and begin the journey to The Homestead.